---
Prince Baysunghur, Before & After:
Timurid Manuscripts in Context 
The inaugural symposium of the Persian Manuscripts Association celebrates the 600th anniversary of the first manuscript produced at the royal library-atelier of the Timurid Prince Baysunghur (1399-1433) in Herat. Prince Baysunghur, Before and After: Timurid Manuscripts in Context, is a two-day international symposium, held on 5-6 November 2021, and hosted by the Institute for Advanced Study, Princeton.
Baysunghur's patronage of manuscript production is significant for exhibiting a high artistic refinement in the arts of the book, but the patron was also actively involved in the scholarly aspect of the works to be reproduced. He commanded editions and the preservation of texts in a variety of fields, notably history, ethics and literature.
This symposium brings together scholars and international experts in a number of disciplines to explore the connoisseurship and patronage undertaken by the prince, the aesthetic of his atelier's output, their antecedents in the Jalayirid period, and the production of literary editions in his library.
The full program for this event can be seen here. Register in advance for this webinar here. After registering, you will receive an email containing information about joining the webinar.
For additional information please contact Shiva Mihan at smihan@ias.edu.
---
Webinar series: pre-modern Islamic manuscripts
This is the first Webinar series organised by the NoMansLand research project (FWF Y 1232) dedicated to the study of Islamic manuscripts in pre-modern Iran and Central Asia. The project aims to reconstruct aspects of the production, circulation and consumption of written knowledge during the Mongol and early Timurid periods in Iran and Central. The webinar series presents eight lectures to this effect by world-leading scholars, each delving into different aspects of manuscript studies. It aims to promote research on handwritten material and explore its potential impact on the study of this region during the 13th – 15th centuries. The webinar endeavors to raise awareness of the historical value that surviving codices from the Mongol period have in shaping our understanding of Central Asian and Iranian cultural history. The lectures have been scheduled throughout the academic year 2021-2022. They are free of charge, but registration will be required (registration will be announced for each lecture).
22 September 2021, 5 pm
Prof. Shahzad Bashir | Brown University, USA
13 October 2021, 5 pm
Prof. Javad Abassi | Ferdawsi University in Mashhad, IR Iran
17 November 2021, 5 pm
Dr. Joep Lameer | University of Leiden, The Netherlands
15 December 2021, 5 pm
Dr. Francesca Leoni | Ashmolean Museum, Oxford, UK
23 February 2022, 5 pm
Dr. Hadel Jarada | Institute of Iranian Studies, ÖAW, Austria
16 March 2022, 5 pm
Dr. Stefanie Brinkmann | Saxony Academy of Sciences, Leipzig, Germany
13 April 2022, 5 pm
Akram Khabibullaev | Indiana University, USA
11 May 2022, 5 pm
Dr. Nourane Ben Azzouna | Université de Strasbourg, France
more information:
https://www.oeaw.ac.at/iran/nomansland/events/apocalyptic-hermeneutics-in-a-manuscript-of-%e1%b8%a5urufi-literature/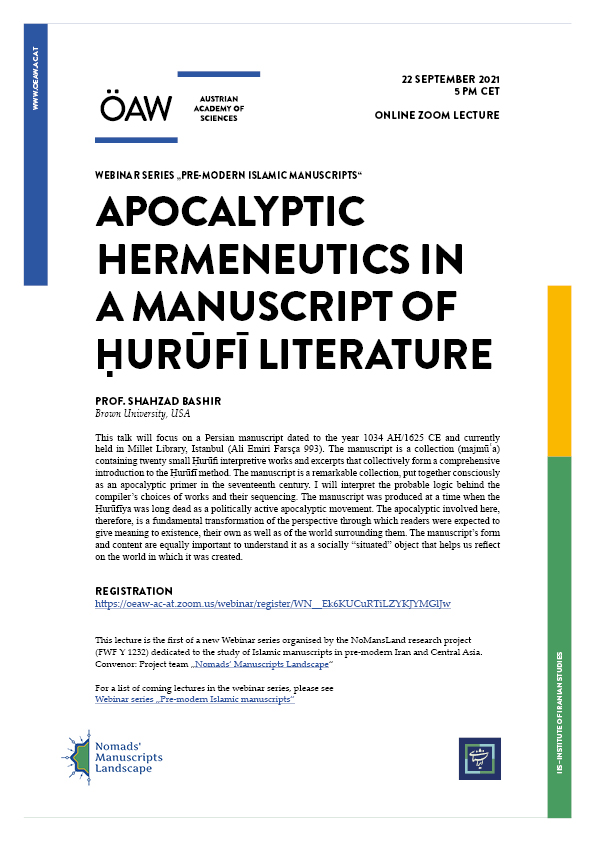 ---
13-14 July 2021, Oxford
10.45am-4.15pm BST (13 July)
11am-5.30pm BST (14 July)
Online
Free, book in advance Book now
Persian Arts of the Book Conference
About the event
'Persian Arts of the Book' gathers scholars from around the world with expert curators from Oxford and beyond to reflect on the Persian manuscript tradition. In a series of short presentations and thematic panel discussions we will examine the poetry, history, and artistic expression contained in these treasures, and the materials and crafts that contributed to making the manuscripts, as well as the history and science of their preservation. Starting with a focus on the history of collections now at the Bodleian Library, the international speakers represent the state of the field of Persian manuscript studies today.
Speakers:
Nasrin Askari, Arezou Azad, Anita Chowdry, Peyvand Firouzeh, Cailah Jackson, Gulfishan Khan, Shiva Mihan, Adeela de Unger, David Roxburgh (keynote), Karin Scheper and Ilse Sturkenboom
Booking information:
Registration closes at 12pm on 8 July
To join the Zoom meeting, please register here.
When you have booked your place, the ticketing system will send you an automated confirmation.
A link to access the online event will be sent by the morning of the event to the email address associated with your booking.
If you do not receive this link please email: bookcentre@bodleian.ox.ac.uk
---
26 May 2021
A Virtual Workshop on Magic, Healing and Religion at McMaster University
10.00 am – 3.40 pm EST
To join the Zoom meeting, please register here.
Keynote speaker:
Dr. Matthew Melvin-Koushki
Associate Professor, Peter and Bonnie McCausland Fellow of History
Department of History, University of South Carolina
"Healing is Believing: Medical Magic Between Science and Religion"
10:00 am -11:00 am EST
Healing Is Believing: Medical Magic between Science and Religion
It is well known that premodern Western medicine, Islamic, Jewish and Christian, was primarily Galenic and Avicennan. Less well known is the fact that it was also often occult. As a rule, physicians and pharmacologists sought to extrapolate from visible to nonvisible data, harness mind-matter and mind-mind interactions and activate cosmic correspondences in diagnosing and treating disease. Other occult sciences like alchemy, astrology and geomancy were routinely utilized as well. Of course, most Western and Westernized physicians today scorn the occult as religious superstition, hence fundamentally opposed to science. Yet they still acknowledge the placebo effect—a form of magic by any premodern definition—as one of the most powerful in modern medicine, and certain forms of "alternative medicine" such as acupuncture and homeopathy are now insurable. To help decolonize the historiography of premodern medical traditions, Western or otherwise, I propose that we dispense with outmoded nineteenth-century materialist cosmology to reconceive of modern medical practice as sometimes technically occult too.